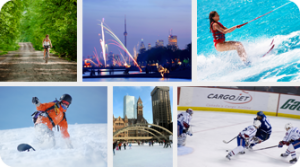 The Summer & Winter vacation programs have been very popular with students from all around the world. The focus of these short-term programs is to introduce many of the wonderful sights and activities every new country visited has to offer while students go improving their language skills in the classroom and practicing them outdoor. Students must be minimum 11-12 years old to enjoy the program. It is very important to take in account the deadline; to make arrangements for accommodation, organize the events schedules, etc.
Canada boasts many great landmarks and attractions such as The CN Tower, the beautiful Lake waterfronts of Ontario, Huron, Erie, etc. The Rogers Centre sports stadium, the renowned Royal Ontario Museum and the Art Gallery of Ontario, Ripley's Aquarium, Niagara Falls, Canada's Wonderland, African Lion Safari zoo, Marineland, and many more.

Whether it's a hot summer day, or a cold winter night there is always something to do in Toronto. In the summer spend the day visiting any number of beautiful attractions, parks or beaches. In the winter enjoy a day of ice skating, tobogganing, or visiting any one of the many museums or art galleries. Though the weather may be unpredictable you can always be sure to find something going on in the city.
This Cultural Exchange Program is a great way for students to experience a new culture and practice their English and immerse in an entirely English environment; it arranges cultural exchange programs for students with English classes on most weekdays, with some cultural exchange activities.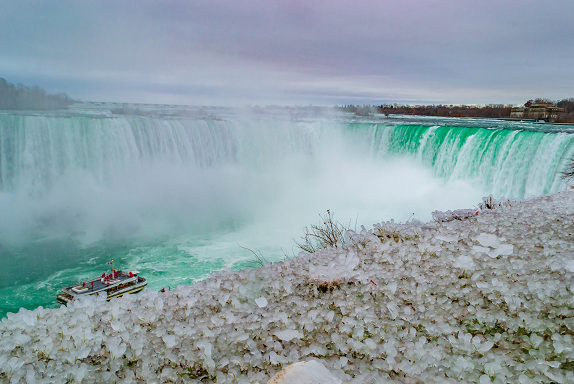 *Applications after deadline are possible if there is room available. The programs can include:
8-18 hours/week of English ESL class with qualified instructors
Accommodation with meals in a Canadian homestay or other option
Transportation from/to airport
Unlimited local transportation (city bus pass)
One weekly full-day, out-of-town excursion per week
Weekly local outdoor-activities according to the program
Farewell Barbecue or party (winter) with teachers and homestay
Mandatory Medical Insurance – four weeks
Mandatory Custody Letter when applicable
It offers you a unique opportunity to learn English, Canadian culture, and an understanding of the career paths available through the College's academic programming. It provides an opportunity for you to improve your English language ability while meeting students from all over the world.
Included in the program is 15 hours of ESL instruction per week. You will develop your skills in grammar, reading and writing, listening and speaking, and pronunciation.
***Course materials will be provided to you
Program includes:
       ESL course work & course materials
       Accommodation
       3 meals per day
       Afternoon activities and weekend trips
       Bus Pass for travel within the City
       Health insurance
       Round-trip airport transfer
       Custodianship